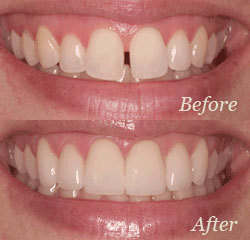 The benefits of cosmetic dentistry are not lost on the millions of people who have treatments every year to improve the appearance of their smiles and teeth in general. From covering over broken, damaged or unsightly teeth, to offering a brighter, whiter smile, the wealth of cosmetic treatments available means that patients can experience a range of benefits. Among the cosmetic procedures you can have, one of the most popular options is professional dental veneers. Contact our Midway, UT office today to learn more about veneers.
Veneers are, typically, made from porcelain or a resin composite, and their purpose is to give a whiter, straighter smile for people who have significant yellowing or alignment issues in their smile. It is possible to get a single veneer for an isolated problem or to get more – anything up to eight veneers in total – to improve a smile that has lost its luster. They are most commonly sought by patients who have issues such as the following:
Broken or chipped teeth

Severe discoloration that cannot be fixed by whitening; also uneven coloring

Pointed, fang-like teeth or teeth that are otherwise oddly shaped

Gaps in your teeth

Teeth that are unusually small
The major benefits of veneers – aside from the instant whitening in your smile, of course – are that they are relatively non-invasive compared to many cosmetic treatments, and that they are a semi-permanent improvement, lasting often for ten years or longer.
The process of having veneers fitted will take at least a couple of appointments, usually three; at the first one you will be assessed for the treatment. Your dentist in MIdway, Utah will discuss with you how many veneers you feel you need, and the results you are hoping for from the process. Veneers can come in different shades, so you may wish to specify how bright you want them to look. At this point, bear in mind that while you might think you want the brightest white, these veneers may look good in photographs but can be overpoweringly bright "in person".
Your Midway dentist will also assess whether you are a fit for the treatment. If you have advanced tooth decay or gum disease, or are in need of root canal treatment, you may not be considered a viable candidate for veneers. At the next appointment, the dentist will file down half a millimetre of your teeth and take an impression mold which will then be sent off to the lab so that your personal veneers can be crafted.
Once the veneers are ready, you will be able to attend a final appointment in which they are applied to the teeth. Your dentist will clean your teeth to ensure that no bacteria are trapped under the veneer. They will then roughen up the teeth using a grinding tool before applying dental cement which helps the veneers to adhere to your teeth. The veneers will then be placed and, after they have been placed under UV light to "cure" the adhesion, you will be good to go.